Vi har været ude og hyrde nogle gange i år – og det har været super fedt at komme i gang igen 🙂 Sookie er overraskende god – taget i betragtning hvor lidt hun har hyrdet i efteråret. Dog skal der lige trænes på Away og Come Bye kommandoerne, for Sookie tager nogle gange den side, som hun synes passer bedst (så fårene kommer ned til mig). Men jeg kan nu på større afstand kommandere hende til den ene eller anden retning 😀 Her er en lille film af Sookie, der hyrder – som I nok kan se, så er jeg lidt langsom til at give hende side-kommandoer og når jeg har givet hende en side-kommando, så får jeg hende heller ikke altid stoppet på det rigtige sted – det øver jeg på 😉 Efter videon var taget, har Jette været og undervise et par gange – og det har hjulpet! Nu ved jeg, hvad jeg skal træne videre på – de  lige linier. Det lyder så nemt, men det synes jeg ikke det er – de lige linier går ud på, at fårene går i en lige linie, og det er hundens arbejde at sørge for dette (altså er hundens linier ikke taget i betragtning). Sidste træningsgang blev der sat et par grinder op – af en eller anden grund, så stressede de grinder mig 😮 Jeg skal have trænet noget mere på det, før jeg overvejer at stille op til en konkurrence 😉 Felicia tog billeder af hundene – og her er lige et par stykker af Sookie (fra en anden træningsdag).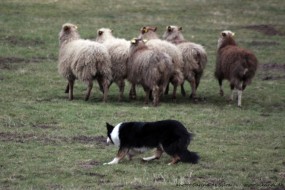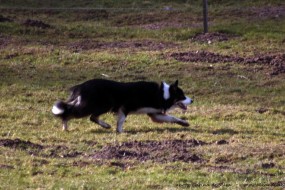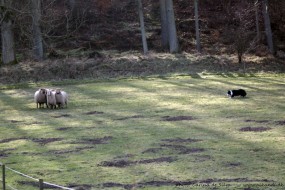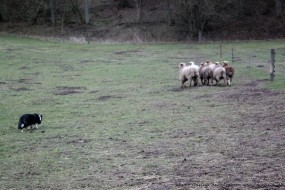 Vinihar været om fangefolden 5-6 gange nu og gør det rigtigt godt! De første gange hun var rundt om fangefolden, så speedede hun rundt – det samme gjorde Sookie, da hun var ny, så jeg er helt overbevist om, at det nok skal blive godt snart. Da jeg fandt ud af, at når jeg havde flyttet på fårene, skulle jeg lige træde tilbage, så der var afstand mellem fårene og mig (jeg er inde i fangefolden), så stoppede Vini med at spæne rundt, og stoppede op i balance 🙂 Og snart kunne jeg kommandere hende i Lie-Down – woohooo 😀 Ja, så gik det hurtigt fremad med at forstå, hvor hun skulle være. Og sidste gang vi trænede, synes Jette jeg skulle tage hende ind i fangefolden. Det prøvede jeg – men må ærlig talt indrømme, at jeg ikke var så meget for det – ikke fordi jeg tror hun kunne finde på at være hård overfor fårene, men ville ikke, at det hele skulle gå op i hat og briller 🙂 Meen, skam mig – Vini er sandelig en rigtig lille stjerne og hørte efter!! Så et par gange mere – udenom og i fangefolden, så kan hun komme på løse får 😀 Her er et par billeder, som Felicia også har taget:
-::- -::- ENGLISH VERSION -::- -::-
It's been a while since I've been out herding with Sookie. But Sookie is as usual my little star 🙂 Though we have to train more on the side commands when she is far away from me as she decides to go to the side that would bring the sheep to me rather than keep them away from me. But pleased that she already after a few herding sessions improved and only a very few times brought the sheep to me instead of holding them away from me 😀 I'm a bit slow to give her the side commands and also when given I'm too slow to stop her – but I'm working on that 😉 I'm working on driving the sheep on a straight line and also crossdrive – it's indeed getting better but at last training session the drive gates were set up and that stressed me 😮 Before I have my nerves under control and Sookie is able to drive the sheep around the course in straight lines I will not sign up for a trial 😉 There is a video of Sookie herding and some pictures above.
Vini has been working on a big circle pen (18 m in diameter). In the beginning she was speeding around the pen but when I (I'm inside the pen) moved away from the sheep she started balancing 🙂 And soon I could command her to lie down. Last session she was also inside the pen and she did really great – still balancing and keeping a distance to the sheep. A couple of more sessions like this and she can work on sheep on the field 😀