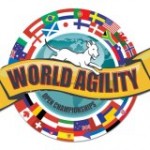 … Dansk version nedenfor …
If I am describe the WAO with very few words, they would be: we had a great trip, great fun and great runs with both Sookie and Vini 😀
I learned a really good lesson about myself. I do not get nervous at these big events and I'm usually pretty focused. But.. I can get too excited before I'm to run causing me to just run and handle sloppy.. Glad I found out that this is the cause – it's something I can work on 😀
Trip
I was driving with Linda to Oviedo. It was a very long drive and if  I am to go to Spain again I will not drive – it's simply too far away and driving for two full days is too tiring. The trip went well – all our dogs gets along and we found several good places to walk the dogs and where the dogs could play 🙂 We arrived late in Oviedo and I didn't understand the instructions from the GPS – it kept telling me to keep to the left but I had to turn right.. so got to learn that part of the city very well 😉
Hotel
There were many other teams staying at the same hotel, for instance Sweden, Japan, England and Australia. Hotel was fine – and I was very grateful that they cleaned the room every day – there was so much sand from the riding hall. I was raining a lot during the event – and imagine a wet dog in a riding hall – sooo dirty.
Oviedo
Wednesday we went for a walk in Oviedo. It's a very nice old city. I still have problems with my ankle and thigh, so I went to a pharmacy looking for voltaren – meanwhile Linda and Rikke waited outside with their dogs and where holding my dogs too. When I came out from the pharmacy two elderly ladies were "talking" to Linda and Rikke. They could only speak Spanish and we could understand that they liked our dogs (but who doesn't?! ;-)) – then we found out that they thought Linda and Rikke was begging for money to feed our dogs and they wanted to give us some money – hilarious 😀 But also very nice of the ladies!
Thursday – training and opening ceremony
First thing Thursday was to have our dogs checked by the vet and then measured. Whenever Sookie is getting measured she tries to be taller – she stands up tall – and she was measured to 47,1 cm. Never ever has she been measured that tall before 😉 Vini on the contrary tries to be as little as possible, so the person measuring her put a hand under her breast and measured her to 49,0 cm – that's 0,5 cm taller than her official Danish measurement.
Afterwards we had a training session in the riding hall – training was great with both dogs. Equipment was state of the art and they had a good grip on dog walk. Yay 🙂
The opening ceremony was the shortest I've ever been part of – that was actually nice. But.. there was so much noise – not sure why people couldn't get their dogs to stop barking – it was simply impossible to hear anything. All the Danish dogs behaved nicely – my dogs were just laying down, sleeping and watching 😉
Friday – Snooker, Pentathlon Agility, Pentathlon Jumping, Biathlon Jumping
Here's a video from the runs I got recorded – I will comment on the runs below:
We were to meet at the venue at 7:00 o'clock and then we were handed out the three courses that were to be run in the morning. We had about 20 minutes to learn the courses before we had to walk them. The course walk was chaos – it was the entire group walking at the same time – so very hard to get a good overview of the courses.
We started out with Snooker. I have never run a snooker game before, but went for the maximum point before the closing sequence. As Sookie was in heat she had to start at the very end of our group (we were divided into three groups where all height divisions where represented) so I was always to start with Vini.
Vini started out fine but then she jumped over the tunnel – thought she had learned not to but apparently that need to be retrained. As the judge didn't blow his whistle I just kept on running.
Sookie did fine as well, we got the maximum point before the closing sequence but unfortunately she misses the A-frame in closing sequence. When it happened the judge commented: oh no.. nice try! And afterwards an American participant praised my run – I was so proud 😉
Next run was the Pentathlon Agility. Vini got eliminated – but not where I thought that could happen. She turned sharply after the collapsible tunnel and that surprised me – she usually never does that (and I've never trained that as I don't want her to get stuck in it). So she the next jump from the inside instead of the outside.
Sookie had an ok run – it was hard for me to run on that surface so I got behind after the teeter and caused Sookie to refuse. I had decided to take Sookie the long way around a jump before a tunnel to give me some more time as I can't run as fast as usual – so that's why if you wonder when watching the video 😉 Sookie was judged that she didn't hit the contact on the dog walk – I was pretty sure she had hit the contact. But maybe the colour of the contact and the surface were to similar?!
Or first afternoon run was Pentathlon Jumping. Vini got eliminated due to several refusals on the weaves – she is in a period where she runs by or out of the weaves if there is a tunnel or collapsible tunnel afterwards – but only at competitions.. rest of the run was okay, the last part of the course she did really nicely and in high speed.
Sookie had a clean run – but at jump # 7 I thought she didn't turn tightly so I didn't trust her. My thigh started hurting on the last part of the course which made Sookie hesitate. But that said, I'm proud of us 😀
Second afternoon – or should I say evening – course was Biathlon Jumping. Vini made it through the course 😉 I disturbed her in the weaves – said: "GOOD GIRL" – doh!! as that caused her to turn around to me.. I couldn't keep up with Vini on the latter part of the course – therefore the improvised bad handling 😉
Sookie got eliminated 😮 She did really nicely – no steps too many – but again, the latter part of the course "killed" me – and she took one of the last jumps in wrong direction.
Saturday – Team Pentathlon, Pentathlon Agility, Pentathlon Jumping, Gamblers
Vini didn't qualify to the second round of the Pentathlon competition (no wonder with to eliminations ;-)) but my little star Sookie did – yahoo 😀
As Vini was not to run before the Gamblers class, she could run the Team Pentathlon Jumping course in the morning. Course looked fine, something that Vini can manage. I walked the dogs but were inattentive for a second and when I turned around – Vini was rolling in some pooh 😮 I can't stand that – so I rushed to the toilet to try clean  her – resulting in me getting to the ring like one dog before I was to run.. phew.. Vini actually ran this course very nicely – I wasn't clear in my handling and she very late got to know she was to take a jump (refusal) and then I got behind and were twice standing at her landing point causing her to knock down to bars. But we did some pretty advanced handling on the last part of the course 😉
In Pentathlon Jumping 2 Sookie did so great. The path to the weaves was not optimal but remainder part of the course was perfect – until last jump where I lost her and she took it from the wrong direction. Bad bad bad of me not making sure she was on the right side of me..
In Pentathlon Agility 2 Sookie didn't put a paw wrong on the course! That was just such a great run – totally connected 😀 But.. she couldn't her me calling after the dogwalk – I can usually see her ears move when I call her name but I didn't see her do this – there was much noise in the riding hall so guess she couldn't hear me and with running contacts you only have one chance to make it right. Anyway, I was pretty happy about our run 😀
The Gamblers class was at the very end of the day. The WAO committee had decided to move the class indoor as it had been raining all day and the turf outside was quite slippery.
We had been inside in the riding hall for several hours and I was getting a headache due to the noise and the cold weather. When the "large" dog handlers were walking the course I decided to go for a long walk with the dogs. I was far away from the riding hall when I heard the usual song they played when course walk is over – then I realised I probably had to walk the course 😮 I decided to continue walking and join one of the other height division's course walk. When I was walking the course I was so confused. I only for a very few minutes looked where the obstacles were and how close they were and then left. I had really no plan afterwards 😮 I got to watch some of the US and Canadian participants who knows this class and first then I made a plan for both dogs 😉
Vini did so great – I haven't trained obstacle discrimination with the dogs so they know when I from a distance tell them to take the tunnel under the A-frame or the A-frame.. We would get maximum point in closing sequence if the dogs took the A-frame (choice were either a tunnel or A-frame). When coming to the closing sequence I just said the A-frame command and Vini took the A-frame with no hesitation – and also the three jumps afterwards with no hesitation – even though distance was great. Overall she became number 14 in the class – so proud of my little youngster 😀
As usual Sookie had to start at the very end.. that meant 21.15 (9:15 PM) in the evening. I was so tired – it had been a long – cold and rainy – day. But thanks to my great team mates cheering and singing for me, I found my last energy for that day and had a really great run with Sookie. But.. my thigh started hurting when I did the stops at the A-frame.. so I didn't handle her most efficient on the next part.. anyway, overall she became number 15 – not sure how Vini beat her 😉 If I had been able to run then Sookie would have made the last weaves as well – and that would have resulted in a 7th place 😉
Video of the greatest support you can wish for:
Sunday – Biathlon Agility
With two eliminations with Sookie in Pentathlon the day before we didn't qualify for the last Pentathlon run. So only run today was the Biathlon Agility. I had a really good run with Vini – she's just so fun to run with 🙂 She hit the wall and missed the A-frame contact – two things she usually never do. So not so worried about this. The flow was great anyway. I knew the tunnel near the weaves would be tempting but it only caused her to run out of the weaves. It got messy after the teeter as Vini left before her release command and was standing in my way. Well.. the running dog walk has become the jumping dog walk..
Just before it was Sookie's turn, my friend Rikke was running. She came out of the ring smiling and she had had a clean run – woohooo!! I was so happy for her, that I got so excited – thinking maybe she would get on the podium. Well.. this is where I learned my lesson – as I couldn't calm down before I was to run Sookie and my excitement caused us to be eliminated 🙁 Apart from Sookie being really naughty when she was to weave it was a really nice run 🙂
Closing Ceremony
The Prize ceremony was nicely arranged – but it was so hard to hear anything for the barking dogs. Dogs were barking constantly during the entire ceremony. Next time I will bring some ear plugs!
Will I sign up for WAO again?
Absolutely yes! I really like that my dogs are not to jump that heigh and that there is an additional height division than in FCI – I really hope that FCI will follow and have an additional height division as well 😀 It's fun to run other classes that usual and that you have more chances to make it. Next year it is in Italy – only 1600 km away 😉
-::- -::- -::- Dansk -::- -::- -::-
Hvis jeg skal beskrive WAO med få ord, ville de være: Vi havde en fantastisk tur, fantastisk sjovt og rigtig gode løb med både Sookie og Vini 😀
Jeg lærte noget om mig selv. Jeg bliver ikke nervøs ved disse store begivenheder, og jeg er normalt temmelig fokuseret. Men.. jeg kan blive alt for opkørt over at skulle løbe, hvilket gør, at jeg bare løber og handler sjusket .. Glad for, at jeg er blevet opmærksom på dette – det er noget, jeg kan arbejde med 😀
Turen
Jeg kørte med Linda til Oviedo. Det var en meget lang køretur, og hvis jeg skal til Spanien igen, vil jeg ikke køre – det er simpelthen for langt væk og at sidde i en bil i to fulde dage er for trættende. Turen gik godt – alle vores hunde kan sammen, og vi fandt flere gode steder at gå hundene, og hvor hundene kunne lege 🙂 Vi ankom sent i Oviedo, og jeg forstod ikke instruktionerne fra GPS'en – det blev ved med at sige, at jeg skulle holde til venstre, men jeg skulle dreje til højre .. så vi fik lært den del af byen meget godt 😉
Hotel
Der var mange andre lande, der boede på det samme hotel, for eksempel Sverige, Japan, England og Australien. Hotellet var fint – og jeg var meget taknemmelig for, at de rengjorde værelset hver dag – der var så meget sand fra ridehallen. Det regnede en del – og forestil dig en våd hund i en ridehal – sååå snavset.
Oviedo
Onsdag gik vi en tur i Oviedo. Det er en meget flot gammel by. Jeg har stadig problemer med min ankel og lår, så jeg gik gik ind i et apotek på udkig efter Voltaren – i mellemtiden ventede Linda og Rikke udenfor med deres hunde, og de holdte mine hunde også. Da jeg kom ud fra apoteket, "talte" to ældre damer til Linda og Rikke. De kunne kun tale spansk og vi kunne forstå, at de kunne lide vores hunde (men hvem gør ikke ;-)?) – Så fandt vi ud af, at de troede Linda og Rikke stod og tiggede penge til mad til vores hunde, og de ønskede at give os nogle penge – super sjovt 😀 Men også meget sødt af damerne!
Torsdag – træning og åbningsceremoni
Torsdag skulle vores hunde tjekkes af dyrlægen, og derefter måles. Når Sookie skal måles forsøger at være højere – hun står nærmest på tæerne – og hun blev målt til 47,1 cm. Aldrig nogensinde har hun været målt så høj før 😉 Vini tværtimod forsøger at være så lille som muligt, så vedkommende, der skal måle hende, lægger en hånd under hendes bryst og målte hende til 49,0 cm – det er 0,5 cm højere end hendes officielle danske måling.
Bagefter havde vi en træningssession i ridehallen – træningen var en fornøjelse med begge hunde. Forhindringerne var state of the art, og hundene havde et godt greb på feltforhindringerne. Yay 🙂
Åbningsceremonien var den korteste jeg nogensinde har været med til – det var faktisk rart. Men.. der var så meget støj – ved ikke, hvorfor folk ikke kunne få deres hunde til at stoppe med at gø – det var simpelthen umuligt at høre noget. Alle de danske hunde opførte sig pænt – mine hunde var totalt afslappede, de sove og kiggede på 😉
Fredag ​​- Snooker, femkamp Agility, femkamp Jumping, Biathlon Jumping
Her er en video fra de løb jeg fik optaget – jeg vil kommentere løbene nedenfor:
Vi skulle mødes på WAO området ved 7:00-tiden og så fik vi udleveret de tre baner, der skulle løbes om formiddagen. Vi havde omkring 20 minutter til at lære banerne, før vi skulle gå dem. Banevandring var kaos – det var hele gruppen der gik på samme tid – så meget svært at få et godt overblik over banerne.
Vi startede med snooker. Jeg har aldrig løbet en snooker klasse før, men jeg gik efter at få maksimale point, før den afsluttende sekvens. Da Sookie var i løbetid, hun havde til at starte til aller sidst i ​​vores gruppe (vi blev inddelt i tre grupper, hvor alle størrelser var repræsenteret), så jeg skulle altid starte med Vini.
Vini startede fint, men så sprang hun over tunnelen – troede, hun havde lært ikke at gøre det, men tilsyneladende ikke, der skal trænes mere på det. Da dommeren ikke fløjtede, løb jeg bare videre.
Sookie gjorde det rigtigt godt, vi fik det maksimale point før den afsluttende sekvens, men desværre misser hun A-brættet i lukke-sekvens. Da det skete, kommenterede dommeren: Oh no .. nice try! Og bagefter roste en amerikansk deltager mit løb – jeg var så stolt 😉
Næste løb var Pentathlon Agility. Vini blev disket – men ikke hvor jeg troede, det kunne ske. Hun drejede skarpt efter posen, og det overraskede mig – det gør hun normalt aldrig  (og jeg har aldrig trænet det, da jeg ikke ønsker hun skal sidde fast i den). Så hun det næste spring indefra i stedet for udenfra.
Sookie havde et fint løb – det var svært for mig at løbe i ridehusunderlaget, så jeg var bagud efter vippen og Sookie fik en værring. Jeg havde besluttet at tage Sookie den lange vej rundt om et spring før en tunnel for at give mig lidt mere tid, da jeg ikke kan løbe så hurtigt som sædvanligt – så det er derfor, hvis du spekulerer over det, når du ser videoen 😉 Sookie blev vurderet, at hun ramte ikke kontaktfeltet på balancebommen – Jeg var temmelig sikker på, at hun havde ramt feltet. Men måske farven på felten og ridehusbunden var for ens?!
Første løb om eftermiddagen var Pentathlon Jumping. Vini blev disket på grund af værringer ved slalom – hun er i en periode, hvor hun løber forbi eller ud af slalom, hvis der er en tunnel eller pose bagefter – men kun til konkurrencer .. Resten af ​​løbet var okay, den sidste del af banen, løb hun virkelig pænt og i høj fart.
Sookie var fejlfri – men ved spring # 7 troede jeg ikke, at hun drejede så skarpt, så jeg har ikke tillid til hende. Mit lår begyndte at gøre ondt på den sidste del af banen, hvilket fik Sookie til at tøve. Men som sagt, jeg er stolt af os:-D
Andet løb om eftermiddagen – eller skulle jeg sige aften – var Biathlon Jumping. Vini kom igennem banen 😉 Jeg forstyrrede hende i slalom – sagde: "GOOD GIRL" – doh! som fik hende til at vende rundt til mig .. Jeg kunne ikke holde trit med Vini på den sidste del af banen – derfor den improviserede dårlige handling 😉
Sookie blev disket 😮 Hun gjorde det rigtig pænt – ingen skridt for meget – men igen, den sidste del af banen "dræbte" mig – og hun tog en af ​​de sidste spring i forkert retning.
Lørdag – Team femkamp, ​​femkamp Agility, femkamp Jumping, Gamblers
Vini kvalificerede sig ikke til den anden runde af Pentathlon konkurrencen (ikke underligt med to disk ;-)), men min lille stjerne Sookie gjorde – jubiii 😀
Da Vini ikke skulle løbe før Gamblers klassen, kunne hun løbe Team Pentathlon Jumping løb om morgenen. Banen så fin ud, en som Vini kan klare. Jeg gik med hundene, men var uopmærksom et øjeblik og da jeg vendte rundt, så jeg Vini rulle sig i noget lort 😮 Jeg kan ikke fordrage det – så jeg skyndte på toilettet for at prøve vaske hende – hvilket resulterer i, at jeg kom til ringen i aller sidste øjeblik, bare en hund før jeg skulle løbe .. Phew .. Vini løb faktisk denne bane meget pænt – jeg var ikke tydelig i min handling og hun fik meget sent at vide, at hun skulle tage et spring (værring), og så kom jeg bagefter og to gange stod jeg i vejen, hvilket forårsager hende til at rive ned to gange. Men vi gjorde noget temmelig avancerede handling på den sidste del af banen 😉
I Pentathlon Jumping 2 gjorde Sookie det så godt 🙂 Linjen til slalom var ikke optimal, men resten af ​​banen var perfekt – indtil sidste spring, hvor jeg mistede hende, og hun tog det fra den forkerte retning. Dårligt dårligt dårligt afmig ikke at sikre, at hun var på den rigtige side af mig ..
I Pentathlon Agility 2 satte Sookie ikke sætte en pote forkert på hele banen! Vi havde et fantastisk løb 😀 Men.. hun kunne ikke høre mig, da jeg kalder på hende på balancebommen – Jeg kan normalt se hendes ører bevæger sig, når jeg kalder hendes navn, men jeg kunne ikke se hende gøre det – der var meget støj i ridehallen, så tror hun ikke kunne høre mig og med løbefelter, har man kun én chance og kommando skal times rigtigt. Anyway, jeg var temmelig glade for vores løb 😀
Gamblers klassen var aller sidst på ​​dagen. WAO Udvalget havde besluttet at flytte klassen indendørs pga det havde været regnvejr hele dagen og græsset udenfor var ganske glat.
Vi havde været inde i ridehallen i flere timer, og jeg fik en hovedpine på grund af støj og det kolde vejr. Når de "store" hundeførere gik banegennemgang, besluttede jeg at gå en lang tur med hundene. Jeg var langt væk fra ridehallen, da jeg hørte den sædvanlige sang, de spillede, når banegennemgangen slutter – så indså jeg, jeg nok skulle gå bane nu 😮 Jeg besluttede at fortsætte min gåtur og deltage i en af ​​de andre størrelsers banegennemgang. Da jeg gik bane, var jeg så forvirret. Jeg gik kun nogle ganske få minutter og kiggede hvor forhindringer var, og hvor tæt de stod. Jeg havde virkelig ingen plan bagefter 😮 Jeg fik at se nogle af de amerikanske og canadiske deltagere, der kender denne klasse, og først derefter planlagde jeg mine løb med begge hunde 😉
Vini gjorde det fantastisk – Jeg har ikke trænet Obstacle Discrimination med hundene, så de verbalt ved, om de skal tage tunnelen under A-brættet eller A-brættet.. Vi ville få maksimum point i lukke-sekvens, hvis hundene tog A-brættet (valget var enten en tunnel eller A-bræt). Da vi når til lukke-sekvens, siger jeg A-bræt kommandoen og Vini tog A-brættet uden nogen tøven – og også de tre spring derefter uden nogen tøven – selvom afstanden mellem os var stor. Samlet blev hun nummer 14 i klassen – så stolt af min lille hund 😀
Som sædvanligt skulle Sookie starte til aller sidst .. det betød at klokken var blevet 21.15 (9:15) om aftenen. Jeg var så træt – det havde været en lang – kold og regnfuld – dag. Men takket være min holdkammerater, der hepper og synger for mig, fandt jeg min sidste energi for den dag og havde en virkelig fedt løb med Sookie. Men.. mit lår begyndte at gøre ondt, når jeg gjorde stop ved A-brættet.. så jeg kunne ikke handle hendes mest effektiv på den næste del .. anyway, samlet blev hun nummer 15 – ikke sikker på, hvordan Vini kunne slå hende 😉 Hvis jeg havde været i stand til at løbe, så ville Sookie have nået at få den sidste slalom med – og det ville have resulteret i en 7. plads 😉
Video af den bedste støtte, du kan ønske:
httpvh :/ / youtu.be / XPkGtoEGiAM
Søndag – Biathlon Agility
Med to disk med Sookie i Pentathlon dagen før, kvalificerede vi os ikke til det sidste Pentathlon løb. Så det eneste jeg skulle løbe i dag var Biathlon Agility. Jeg havde en rigtig godt løb med Vini – hun er bare så sjov at løbe med 🙂 Hun ramte muren og missede feltet på A-brættet – to ting, hun normalt aldrig gør. Så jeg er ikke så bekymret for dette. Vi havde et godt løb med et godt flow alligevel. Jeg vidste tunnelen nær slalom ville være fristende, men det fik hende kun til at få en værring ved slalom. Det blev rodet efter vippen, da Vini går før hendes release kommando og stod i vejen for mig. Og.. den løbefeltet på balancebommen er blevet et hoppefelt..
Lige før det var Sookie's tur, skulle Rikke løbe. Hun kom ud af ringen smilende og hun havde haft et fejlfrit løb – woohooo! Jeg var så glad på hendes vegne, at jeg fik kørt mig selv op – tænker måske hun ville få en plads på podiet. Godt så.. en erfaring rigere – jeg kunne ikke falde ned igen, før jeg skulle løbe med Sookie og min opkørthed fik os disket 🙁 Bortset fra Sookie bliver virkelig fræk, da hun skulle i slalom, var det et virkeligt godt løb : -)
Afslutningsceremonien
Præmieoverrækkelsen var godt arrangeret – men det var så svært at høre noget for de gøende hunde. Hundene gøede konstant under hele ceremonien. Næste gang vil jeg medbringe nogle ørepropper!
Vil jeg tilmelde os til WAO igen?
Absolut ja! Jeg kan virkelig godt lide, at mine hunde ikke at springe så højt, og at der er en ekstra størrelse end i FCI – Jeg håber virkelig, at FCI vil følge efter og indføre en ekstra størrelse 😀 Det er sjovt at løbe andre klasser end de sædvanlige og at du har flere chancer for at gøre det. Næste år er det i Italien – kun 1600 km væk 😉